Mac Managed Services
Is your business losing valuable time and money by handling IT issues yourself and not proactively maintaining your technology?

Businesses often don't realize the costs associated with poorly maintained technology. Handling IT issues yourself can be viewed as a cost savings, but in reality it ends up being a poor use of you or your employees time. Hiring an expert on a case by case basis might fix the problem temporarily, but rarely gets to the root of the problem to fix it permanently. Our managed services plans fix these problems, and allow technology to become a revenue generating tool instead of a constant headache.
 
Proactive Maintenance
With our industry leading tools, we monitor your computer 24/7/365 and run daily maintenance to ensure your machines work smoothly. We also detect problems as they occur, immediately fixing them before they grow into large disasters.
 
Predictable IT Costs
Are you tired of being nickeled and dimed by your current IT consultant? Our flat-rate support plan allow you to get all the support you need for a fixed rate. Ours plans cover whatever you need, whenever you want.
 
Increased Productivity
By letting us manage your IT infrastructure, we can make sure everything works in harmony so you can stay busy running your business. Not only do we make sure your current technology works, but we continually introduce new technology to make you're more productive which leads to more profit!
 
Your Trusted IT Partner
Are you looking for someone to just fix your computers, or are you looking for a trusted IT advisor that helps you grow your business? Our clients love us because we are their trusted advisors for making technology take their business to the next level.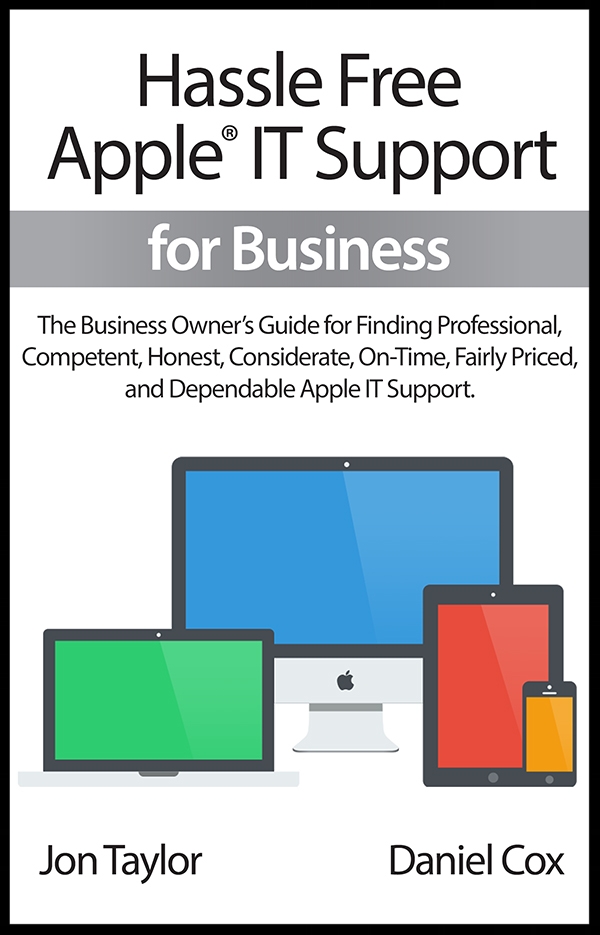 This FREE e-book is every business professional's guide for finding competent, honest, considerate, on-time, fairly priced, and dependable Apple IT support. Download now!